A Mission to Save the Historic Buildings of Birmingham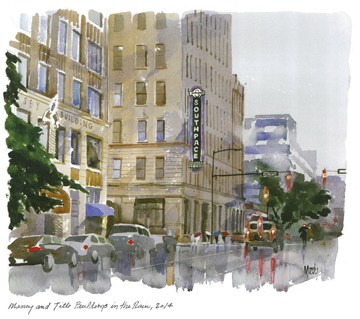 Over the years, thanks to Birmingham artist Bob Moody and Southpace Principal John Lauriello, many historic buildings in Birmingham have been rescued and restored. The two have been long time friends with a common interest, or should we say passion, for Birmingham.
John and Bob's partnership can be traced back to 1983, when the YMCA made their plans public that they were going to build a downtown facility located across the street from the Title Building. That's when John began looking for an architect to restore the historic Title Building, but he wasn't looking for just any architect. He was searching for one that, like him, believed historic buildings should stay true to their character—even through a renovation. And that's when John met Bob Moody. At the time, Bob had his own company, Moody and Associates, which designed commercial interiors and architectural plans.
Together, Bob and John began the project of restoring the Title Building, and upon completion it became the office headquarters for Southpace Properties. From then on, the two teamed up to restore historic buildings all around the Birmingham city center, with Southpace providing the realtor services and Moody in charge of the design.
Even though Bob officially retired in 2002, John and Bob continue to work together to save historic buildings around Birmingham. Recently, they've discussed their work in the restoration of the Clark Building at a Shades Valley Rotary Club Meeting at the Botanical Gardens, as well as the Birmingham Historical Society meeting at Little House Art Gallery.
Though Bob is well-known for his architectural and design work on these historic buildings, he's even more well-known for his watercolor drawings of several famous Birmingham landmarks—including several buildings he has helped restore. Along with many Birmingham residents, we're excited about his book, Bob Moody's Birmingham–A City in Watercolor which has recently been released by the Birmingham Historic Society.
The book is a collection of 107 of his watercolors of Birmingham landmarks in full color. These landmarks range from a 1967 view of Terminal Station to Sloss Furnaces, Morris Avenue's Peanut Depot, the Lyric Theatre, 16th Street Baptist Church, Oak Hill Cemetery, Dreamland, plus many others. We encourage you to order a copy for yourself here on the BHS website or on amazon.com.  For a limited time, Bob's book will also be sold at Little Hardware and Gus Mayer.
While John and Bob have worked so hard for these historic buildings to keep their character, this book amazingly portrays the personality of the Magic City all the way from its past to the present.
Southpace Properties, Inc. is Alabama's largest independent commercial real estate firm. At Southpace, we add value to the use and ownership of commercial real estate through services such as office, retail, land, warehouse, and industrial sales and leasing, tenant and landlord representation, development, consulting, investment sales, property management and construction management. With 13 CCIM designees, Southpace has the highest number of CCIM accredited brokers in the Southeast.