Brokers and Employees Share Their Favorite Southpace Memories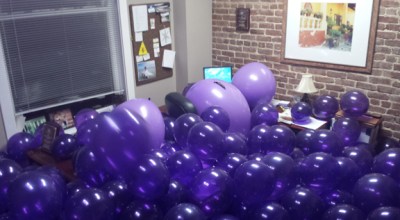 Southpace celebrated 30 years in commercial real estate in 2014, so we asked some of our brokers and employees for their favorite Southpace memories. Here's what they had to say.

I have a few favorite moments during my 10 years at Southpace, but the main one that stands out was my initial interview with John Lauriello. It was like a civics class/real estate class/stand-up comedy show all rolled into one. He doesn't know it (I guess he will now), but when I got in my car after that interview I called my wife before starting the  car and said, "I know where I want to work. It's Southpace Properties." It was very impactful. You probably had to be there to truly understand it.
– Andrew Loveman, Associate Broker
Years at Southpace: 10

My fondest memory at Southpace happened in November 2013 when I was surprised with a beautiful party–gorgeous flowers, a delicious, decorated cake and so many smiling faces–to celebrate my anniversary of working for this wonderful company for 25 years. I've enjoyed every moment as the camaraderie here is delightful, and I truly feel that Southpace Properties has been my "second family." It's a special place to work, and it seems that my car just automatically heads to 3rd Ave. N. & Richard Arrington Blvd. each morning!
– Gloria Weintraub, Receptionist
Years at Southpace: 26

I'll never be able to forget the day I came into work to find that I could not open my door due to my office being completely FILLED with balloons—mostly purple ones, of course. Upon learning that I'd been selected as a BBJ Top 40 Under 40 Honoree, several of the brokers decided to congratulate me by staying up half the night blowing up balloons and shoving them into my office. It was a pretty good prank that gave me a good laugh—especially when I learned it took them longer to blow up the balloons than it took for me to pop them all and clean up the mess.
– Rich Vanchina, Industrial Group Director
Years at Southpace: 14

I think anyone who has been with Southpace for more than 10 years would say our trip to New Orleans was pretty special. It was an all-expense paid trip, including accommodations at The Ritz-Carlton. We had a special dinner where John gave each of us little mirrors to reflect on his "look in the mirror" talk that required us to hold ourselves accountable for our own success. It was definitely a trip I will never forget.
– Michael Randman, Associate Broker
Years at Southpace: 28

Our trip to New Orleans was definitely a unique and fun experience. It's those kinds of things that make this outfit a truly unique organization. Thanks for a memorable trip John and Bill!
– Jim Collins, Associate Broker
Years at Southpace: 15

My most memorable moment at Southpace would have to be my 50th birthday in 2008. On my way into the office, I started to notice signs all over downtown stating "Happy 50th Birthday, Sharon!"—all with photos included. There also was a particularly large sign at the door to our Southpace office. Definitely a memorable (and embarrassing!) moment. Oh, and who could ever forget our Christmas with Elvis in 2007?!
– Sharon Gladney, Accounting Administrator
Years at Southpace: 15

I don't think anyone in Birmingham will ever forget the "Snowpocalypse" we experienced in late January 2014. While most Southpace employees fled the office upon hearing about the snow heading our way, I decided to wait, thinking traffic would clear by the time I would leave. I was wrong and ended up getting stranded at our offices downtown. But what could have been a terrible situation, turned into a fun night, including dinner at John's City Diner with a couple of other folks who were also stranded. Huge thanks to Steve Mordecai for driving me home the next day—or at least as far as he could take me!
– Christen Lewis, Director of Marketing
Years at Southpace: 4