Finding Commercial Real Estate Opportunity Amidst Supercenter Disruption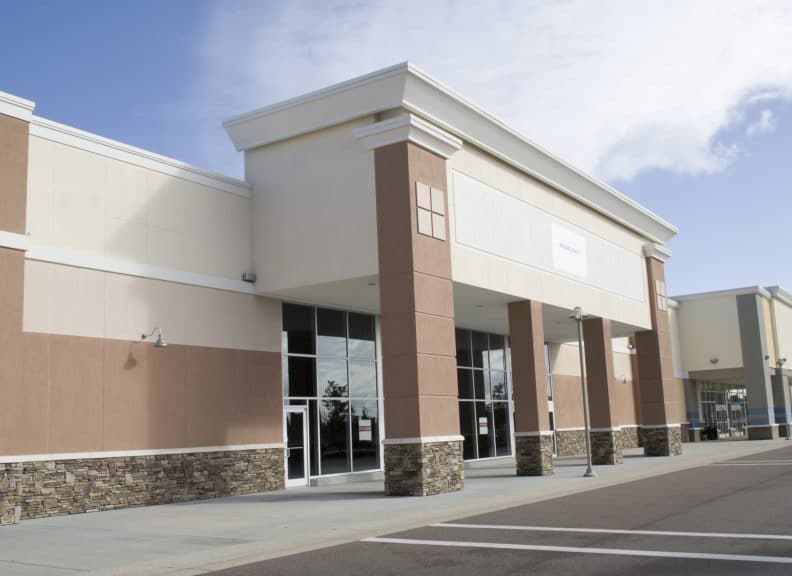 In case you haven't heard, the U.S. is in the midst of a seismic shift that's resonating throughout the retail industry. The ever-increasing upswing in online shopping, changing consumer demographics, fluctuating buyer preferences, and an industry-wide proclivity for downsizing, has created a perfect storm that's indiscriminately wiped up stores of every size and scope. Perhaps one of the biggest verticals hit in the retail sector? Big-box retailers.
Big-box Retailer Basic: What It Is And Why It Worked
As its name implies, a big-box retailer is a store that physically occupies an enormous amount of square footage. Also known as mega-stores, super-centers, or superstores (think Walmart, Target, IKEA, and the like), a big-box retailer uses its size to its advantage, buying in bulk and leveraging the power of high volume to deliver competitive prices to consumers, yet still turned an impressive profit.
Typically outfitted in gigantic commercial properties of more than 50,000 square feet, big-box stores sport a plain, warehouse layout that resembles, well, a giant box. During the height of the super-center's economic boom, its simplistic commercial real estate design played a vital role in its ultimate success. Unlike smaller shops and boutiques that rely primarily on backroom storage to house much of its inventory, mega-stores, in all of their virtually endless, empty square footage glory, can prominently display all of their products and wares for easy consumer access and purchase.
Big-Box Retailers Serve As Anchor Tenants In Larger Complex's
In its heyday, big-box retailers, department stores, and super-centers made for an ideal "anchor tenant" – those larger retail tenants at malls and shopping centers used to draw in large consumer crowds that would eventually wander throughout the complex once they were finished browsing the super-center's merchandise. However, recent years have shown that even the retail giants aren't impervious to an economic downswing. In 2018, mega-stores Kmart, Sears, and Kroger closed multiple locations, and Toys R Us closed all of its operations entirely. Unfortunately, it's likely that others will follow suit. Macy's, J.C. Penney, and Lord and Taylor are just a few of the many big-box, anchor tenant stores that many are predicting will soon close several locations.
How Closing Big-box Retailers Are Changing Commercial Real Estate
For commercial real estate owners in the retail vertical, the market's consistent downturn brings with it disruption, particularly when super-centers and anchor tenants fold, leaving gaping holes in their larger complexes. However, with the chaos comes opportunity. With every retail storefront closing, commercial property investors and landlords are redefining and repurposing their big-box facilities for new tenants. The sheer square footage volume of these buildings makes them easily adapted to a myriad of other commercial functions. While some stay (somewhat) in their existing retail lane, others use the large, wide-open building layout to switch verticals entirely. For example, in 2011 one Texas town transformed an empty Walmart building into the country's largest single-floor public library.
Other uses for emptied super-centers include:
Last Mile Distribution Centers
As Amazon continues in its quest for retail world domination, the demand for last mile distribution centers continues to rise. When mega-stores in desirable locations close, many landlords find that they can easily reconfigure these giant buildings to house a wide-ranging inventory of goods close to where large pockets of consumers are located.
Office Use
The cavernous expanse of a big-box storefront also makes it an excellent option for office use as well. Commercial property owners can lease the facility to larger companies searching for a single location to house their administration and warehouse teams. Additionally, property owners can also quickly outfit the buildings large interior into several different business spaces, offering each tenant various options to customize their piece of the property as a mixed-use community.
Entertainment Space
Movie theaters, interactive play spaces, escape rooms, and other types of experience-centric businesses can also prove a great fit for a repurposed superstore facility. Not only can these types of corporate ventures quickly fill up an entire big-box retail building, but these types of tenants generally will also pay a higher rent.
At Southpace Properties, our trained and experienced commercial realtors recognize that the changing face of retail offers unique investment opportunities. Contact us today to hear more!