Sleep Outfitters Signs Lease at Eastwood Village East in Birmingham, AL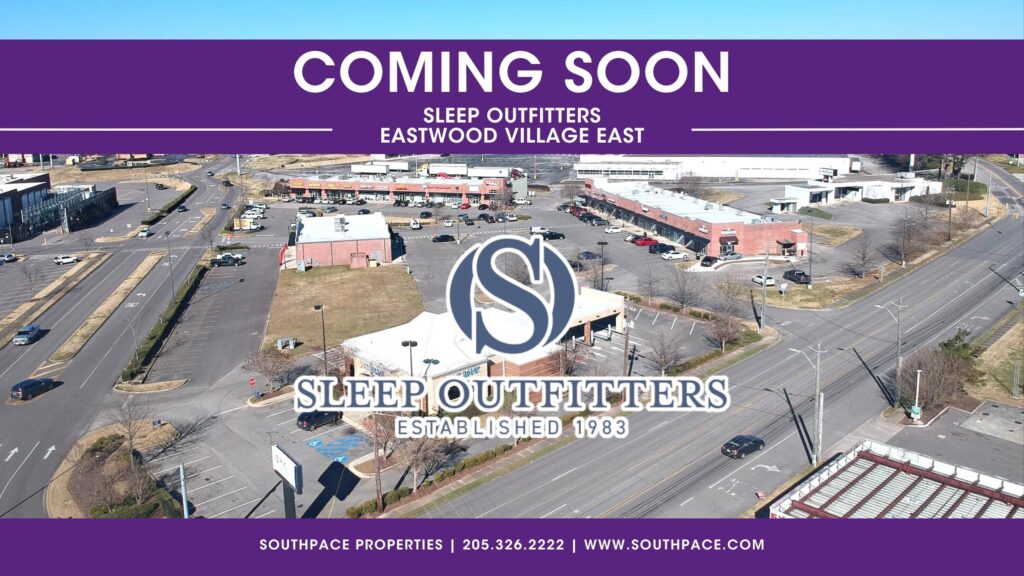 Birmingham, AL – Sleep Outfitters, a leading retailer of high-quality mattresses and sleep products, has signed a lease for 4,800 square feet at Eastwood Village East Shopping Center in Birmingham, AL. Southpace brokers Patrick Sullivan and Luke Grant represented the landlord, while Hugo Isom with JLL represented Sleep Outfitters.
Sleep Outfitters "outfits you for life-changing sleep" with a sleep solution customized to each guest. Trained Sleep Outfitters work with guests to develop their Personal Sleep Profile. Based on that information, they can put together a sleep solution to address a wide range of sleep issues, from waking up too hot during the night to waking up achy in the morning. "Most people understand that the wrong mattress can negatively affect their sleep," says Mike Poppe, CEO of Sleep Outfitters. "But what they don't realize is how the right mattress, combined with the right foundation, protector, sheets and pillows, can profoundly improve their sleep. It can be life-changing."
To that end, Sleep Outfitters offers a specially curated selection of Sealy, Tempur-Pedic, and Stearns & Foster mattresses, plus everything else people need to create the ideal sleep environment. "There's no one-size-fits-all when it comes to sleep," Poppe adds. "Every person has unique sleep needs and should have a customized solution."
With the signing of this lease, Sleep Outfitters is poised to become a valuable addition to the Eastwood Village East Shopping Center. Two additional tenants have recently signed leases to go inline at the center – Blissful Crossings Event Space and Salon Sevyn.
For more information about Eastwood Village East, contact Luke Grant.
Luke Grant
Southpace Properties
(205) 271.7219
lgrant@southpace.com